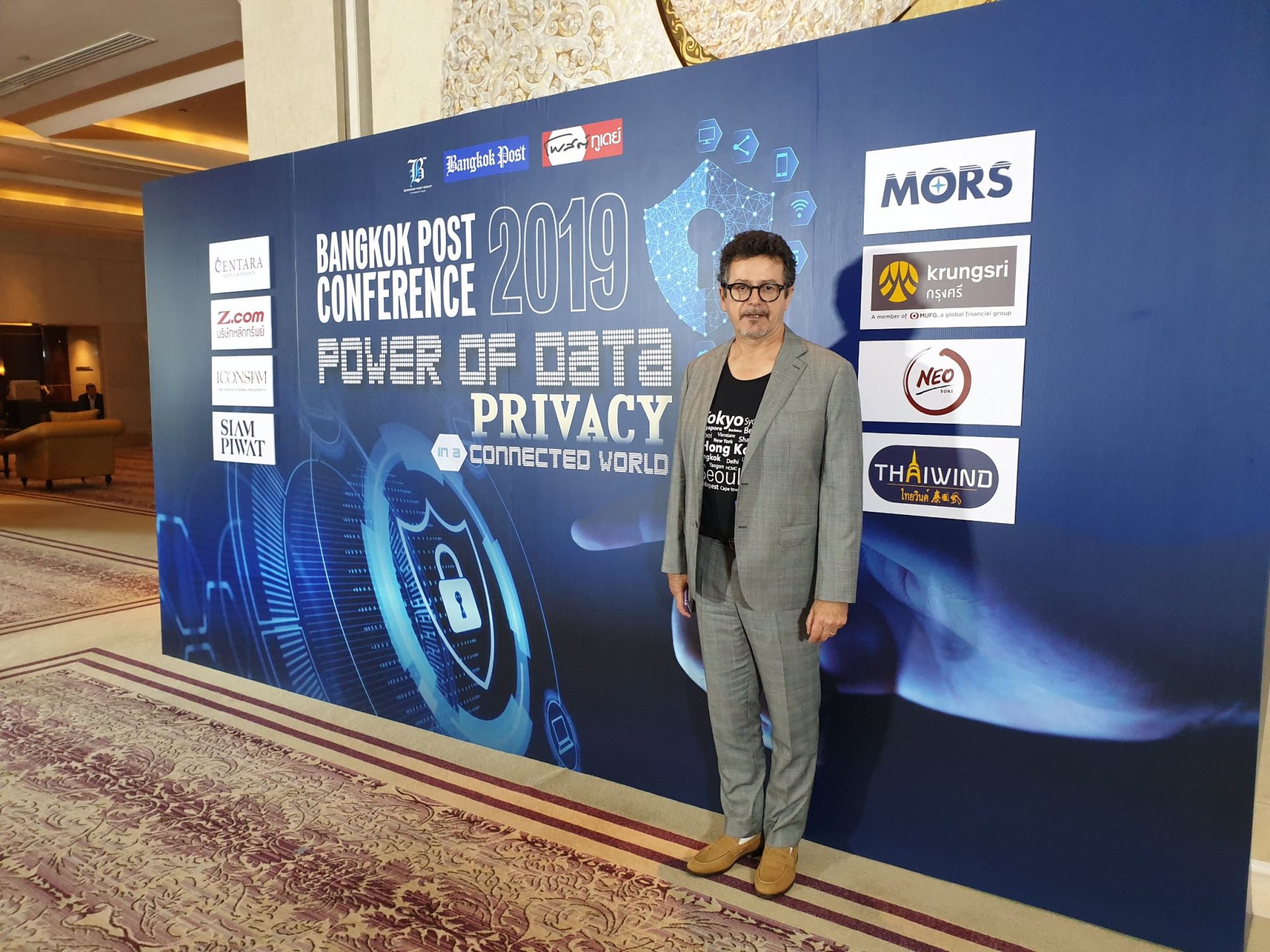 Yesterday Mr.Laurent Landie, our Chief Strategy Officer and team attended  Bangkok Post Conference 2019 – "POWER OF DATA: PRIVACY IN A CONNECTED WORLD"
Top Governor and Business leader are stressing the Important Big data on the population, but also protecting personal data from increasing frequent cybersecurity threats.
The Thai Data Privacy Act that already took effect is up to international standard and international norms. Which means the Data Protection Law has "indirectly or directly"  affects you somehow. Companies have to prepare themselves for the law by coming up with readiness plans and have to "re-engineer" the whole system as they prepare for the law to take effect into full force from 27 May 2020 onwards.
You have "100%" rights to keep your data private and to be well informed about their safety and storage.
DATA must be managed and protected throughout its lifecycle. The data lifecycle spans from the point of data reception, collection to the action of disposal. Your organization must take appropriate steps to reduce privacy risks at each stage of the data lifecycle.
For the last 10 years Asia Data Destruction is the Thai and Asian Leader in Data Disposal.
ADD can provide the best Data Destruction process to be compliant with your ISO 27001, 20000, 22301, HIPAA, PCI-DSS, European and Japanese GDPR and the upcoming data privacy law. Our Insurance will also protect your company from all cost link to potential leak. We can also buy back your IT asset after the destruction of Data.
Asia Data Destruction เป็นรายเดียวในไทย ที่ให้บริการด้านลบและทำลายข้อมูลในอุปกรณ์อิเล็กทรอนิกส์อย่างปลอดภัยตามมาตรฐานระดับสากล ด้วยโปรแกรมอันดับ 1 โดยเทคโนโลยีของ Blancco ซอฟต์แวร์ กับความสามารถในการจัดการข้อมูลที่ถูกต้องและลบข้อมูลอย่างถาวร บริการของเราครอบคลุมไปถึงการให้คำปรึกษาและการจัดการทรัพย์สินอีเล็กทรอนิกส์หมดอายุการใช้งาน การดำเนินการด้านการปกป้องข้อมูลอย่างครบวงจร
Feel free to contact us at Contact@asiadatadestruction.com