For years now thailand is drafting two new laws for the data protection in the digital economy.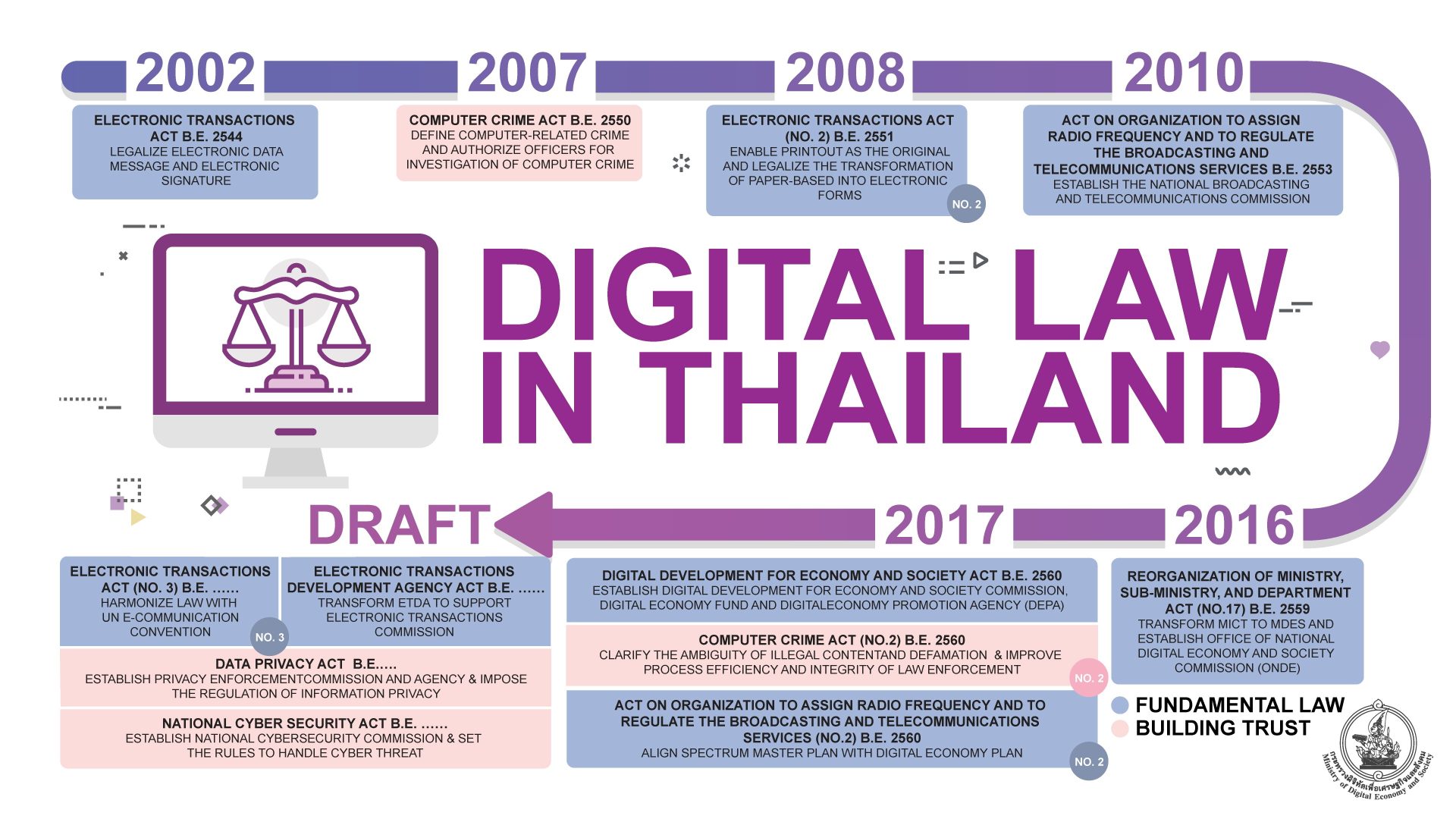 The Personal Data Protection Bill is in some ways similar to the European Union's General Data Protection Regulations (GDPR) protecting data owners of potential abuse of their personal data for commercial and other undesirable purposes. The data protection legislation will take effect a year after being passed to allow preparatory work.
The cybersecurity bill will allow the seizure of computers and servers without a court order in case of emergency for critical cases. The national cybersecurity will take immediate effect after its approval, which is expected to be by May.
Both bills will go through their third reading in the National Legislative Assembly (NLA) on February 22 and 25. The Ministry of Digital Economy and Society will be the primary agency responsible for enforcing the laws.
You may read Today's Bangkok Post and The Nation articles on this subject.
---
เป็นเวลาหลายปีแล้วที่ประเทศไทยได้ร่างกฎหมายใหม่สองฉบับ คือ ร่างพระราชบัญญัติการรักษาความปลอดภัยทางไซเบอร์ (Cybersecurity) และ ร่างพระราชบัญญัติคุ้มครองข้อมูลส่วนบุคคล (PDPA) เพื่อคุ้มครองข้อมูลในเศรษฐกิจและสังคมดิจิทัล
ร่างพระราชบัญญัติคุ้มครองข้อมูลส่วนบุคคลนั้น สอดคล้องกับกฎหมายคุ้มครองข้อมูลส่วนบุคคลของพลเมืองสหภาพยุโรป (GDPR) เพื่อปกป้องเจ้าของข้อมูลต่อการละเมิดข้อมูลส่วนบุคคล ที่อาจเกิดขึ้นเพื่อวัตถุประสงค์ในเชิงพาณิชย์และอื่น ๆ ที่ไม่ได้รับความยินยอมจากเจ้าของข้อมูลนั้น
และเพื่อให้ภาคส่วนต่างๆ ได้เตรียมความพร้อมในการปฏิบัติตามข้อกฏหมาย ร่างพระราชบัญญัติคุ้มครองข้อมูลส่วนบุคคล จะมีผลบังคับใช้อย่างเป็นทางการตั้งแต่ วันที่ 27 พฤษภาคม 2563
ร่างพระราชบัญญัติความปลอดภัยทางไซเบอร์ จะอนุญาตให้มีการยึดคอมพิวเตอร์และเซิร์ฟเวอร์ได้โดยไม่ต้องมีคำสั่งศาล(ในกรณีฉุกเฉิน)
ร่างฎีกาทั้งสองจะผ่านการอ่านครั้งที่สาม ในสภานิติบัญญัติแห่งชาติ ในวันที่ 22 และ 25 กุมภาพันธ์ กระทรวงดิจิทัลเพื่อเศรษฐกิจและสังคม จะเป็นหน่วยงานหลักที่รับผิดชอบในการบังคับใช้กฎหมายเหล่านี้
สามารถอ่านบทความ ที่เกี่ยวข้องในหัวข้อนี้ได้ ที่สำนักข่าว Bangkok Post และ The Nation.
---
Asia Data Destruction (ADD), leader in the ASEAN for complete or partial data erasure, is offering corporate a free audit consultation to help them understand the meanings and consequences of such laws on their company, and how to implement compliance processes.
We also offer to buy back services and end-of-life IT Asset disposal, to ensure sustainable solutions and Return on Investment to their clients.
---
ADD เป็นผู้นำด้านการให้บริการลบข้อมูลอย่างถาวรและครบวงจร ของภูมิภาคอาเซียน เรายินดีให้คำปรึกษาแก่ท่านฟรี เพื่อช่วยให้ท่านเข้าใจความหมายและวิธีการปฏิบัติตามกฎหมายเหล่านั้น ให้เป็นไปตามกระบวนการ และสอดคล้องกับนโยบายบริษัทของท่าน
นอกจากนี้เรายังมีบริการรับซื้อคืน และการกำจัดอุปกรณือิเล็กทรอนิกส์ที่หมดอายุการใช้งาน เพื่อให้มั่นใจว่าเป็นแนวทางการแก้ปัญหาที่ยั่งยืนและให้ผลตอบแทนกับลูกค้าจากการลงทุนอย่างสูงสุด
Contact us: add@asiadatadestruction.com